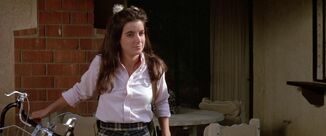 Dana Freeling is the oldest child of Steven & Diane Freeling. She has two younger siblings, a younger brother Robbie and a little sister Carol Anne Freeling. She appeared in Poltergeist, portrayed by the late Dominique Dunne. Due to Dunne's death, Dana did not appear in Poltergeist II, or Poltergeist III.
Nightmare with Henry Kane and his ghosts
Edit
Dana lives with her parents and her two young siblings. She goes to school often in the film. After Carol Anne's disappearance, she saw the tornado. Dana and Robbie are out for safety, because of the ghosts' hazardous powers. She did not came back until she saw the house was about to vacuumed up by ghosts. She and her family are forced to spend the night at the hotel.
Poltergeist II: The Other Side and Poltergeist III
Edit
Dana did not appear in Poltergeist II and Poltergeist III because of Dunne's murder by her ex-boyfriend. Because of that, Dana has either moved out from her family or she could've went to college as the first sequel intended her.